First of all thank you for taking time out of your busy schedules to attend the Neighbourhood Safety Association meeting. The presence in the gymnasium demonstrates the commitment by the community to address crime while fostering safety and security in our local neighbourhoods.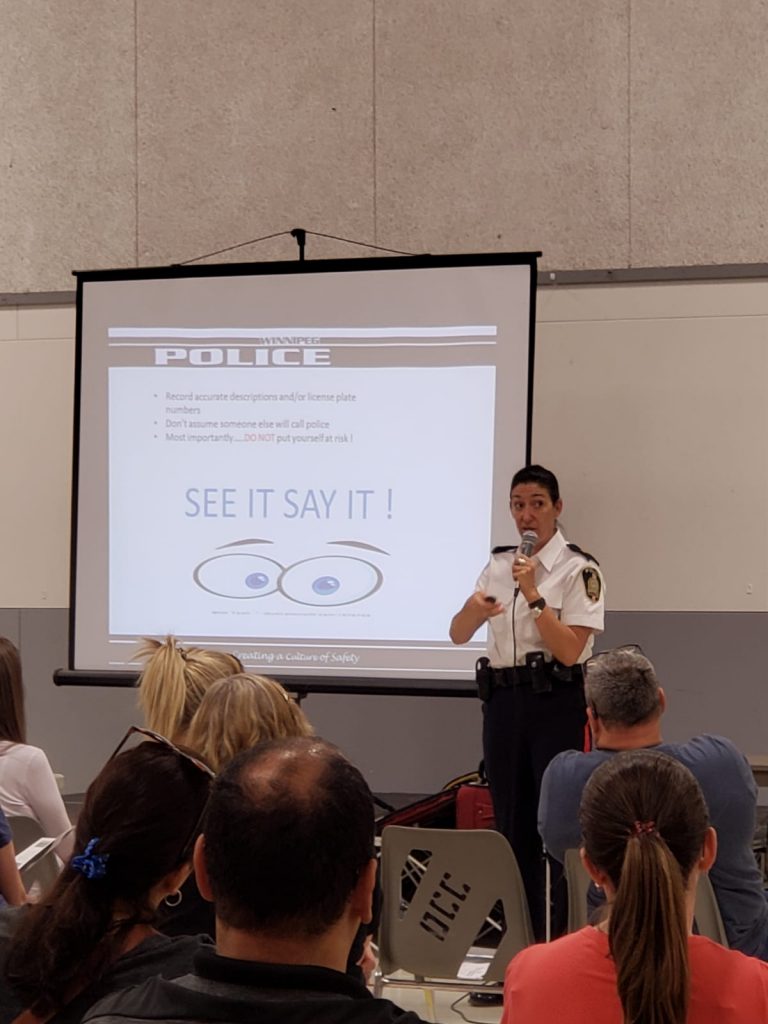 I also want to take time to acknowledge that Inspector Bonnie Emerson took time out of her personal schedule to attend and present at our forum.  Her attendance demonstrates her commitment to working with communities to establish best practices as well as collaboration between the Winnipeg Police Services (WPS) and community groups.
Our special guest James Favel, Executive Director of the Bear Clan Patrol, provided a glimpse of how a community can initiate proactive measures to address neighbourhood safety and community well-being.  Building on engagements within the neighbourhood and establishing networks is a model that can be adapted in St. Norbert – Seine River towards community capacity.
TAKE AWAYS and NEXT STEPS:
The WPS identified a disconnect between the volume of crime reporting on Social Media sites versus actual crime reporting to the Service. WPS actively monitors social media to determine trends, but cannot use this information to establish protocols or pilot projects. Whether calling in or using the online tool, crime must be reported, regardless of how trivial it may be. Reporting crime provides the data police need to establish clear patterns and provides opportunities to effectively allocate resources accordingly.
Inspector Emerson indicated the three elements that deter burglars are:
Most burglaries occur in 3 minutes or less and occur between 10 A.M. and 3 P.M. while most residents are at work and school. Most burglars enter your home through the front door. At times, a burglar may first knock on your door to see if anyone is home. If no one is home, they'll jiggle the doorknob to see if it's unlocked. Many times homeowners leave their doors unlocked, which is an open invitation for an intruder.
The next best entry point for a burglar to gain access to your home is through a window on the first floor, followed by the back door. This doesn't mean that burglars don't bother attempting other entry points like garage doors or through the basement so be sure to always lock your doors/windows and have heavy-duty locks on them.
A well-lit entryway is a deterrent for thieves as they prefer to enter a premises undetected. Leaving exterior house lights on overnight helps to illuminate the street and is a deterrent for thieves who target cars in driveways. There are energy efficient lighting options available in the market that would only increase the cost of a hydro bill by approximately $22 per year to achieve an increased level of street security.
Audible alarms are the preferred method to deter thieves, coupled with a bright stobe light, attracts the attention of neighbours and people passing by.
Additional Tips include:
Adding deadbolts to doors;
Trim shrubbery and vegetation near windows and entryways;
make sure grass is cut or snow is cleared if you are away for extended periods of time;
remove remote garage door openers if your vehicle is parked in a driveway;
remove other contents from plain site such as sunglasses, phone chargers, and loose change
NEXT STEPS:
The Neighbourhood Watch Program is a proactive concept designed to reduce residential break and enters and other property crimes within a community.
Through increased awareness and crime prevention tips, participating community members are encouraged to develop good security habits and to watch out for each other's property.  For more information regarding the Neighbourhood Watch Program click here
If you are interested in establishing a Neighbourhood Watch for your street, please e-mail markuschambers@winnipeg.ca and I will coordinate with the Winnipeg Police Service or with the Bear Clan.
Additional Links:
Personal Safety in the Home:
https://www.winnipeg.ca/police/TakeAction/Safety_home.stm
Vehicle Theft and Prevention:
https://www.winnipeg.ca/police/TakeAction/vehicle_theft_prevention.stm
Citizens on Patrol Program C.O.P.P.
https://www.winnipeg.ca/police/TakeAction/copp.stm