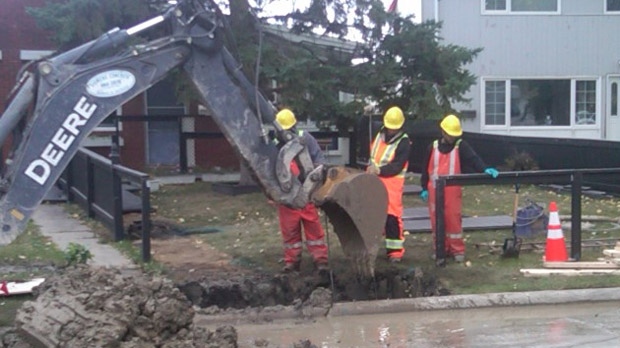 Starting the week of August 31st, City of Winnipeg will begin a 5-week project to replace the aging water main on your street.
Water service during construction
We may have to provide you with a temporary water service from time to time, by connecting an overland hose to your outside tap or within your building. To attach this hose, we will need to enter your property.
If we cannot provide a temporary water service, we will coordinate with you and try to schedule any interruption so it will be the least disruptive.
We will also have to shut off your water service for a short time on a few occasions and will try to give you 24 hours' notice. If you are a business, we will do everything we can to schedule this outside of your regular business hours.
We may have to shut off your water without notice. If this happens, we will restore your service as quickly as possible, usually within four to six hours.
Even though we disinfect the new water main once it is installed, you may find that the water tastes a little different and is cloudy. This is common after water main work. The water will return to normal within a few days. You can use the water and there is no need to take special precautions.
For more information on drinking water quality, visit our website at Winnipeg.ca/waterquality
Traffic/parking restrictions during construction
There may be parking and traffic restrictions.
Your private approach will be maintained at all times.
Services maintained during construction
Your sewer service will not be interrupted.
Your recycling and garbage collection will not be affected.
To keep your children safe, please keep them away from the construction site at all times.
Once we have completed our work, we will restore any damaged boulevard and pavement areas as soon as possible.
Please contact 311 by phone or email at 311@winnipeg.ca with any project concerns or questions.