Programs & Events
Our May/June At The Library is now available to view online and pick up at the library.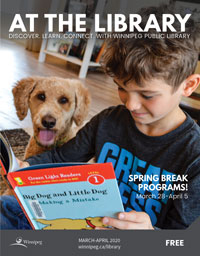 Registration is open for all programs. Register in person, by phone or online at Winnipeg.ca/library.
Check out the packed schedule of programming for children and families.
Registration for the TD Summer Reading Club begins Tuesday, June 18. Children up to age 12 are invited to visit any library branch to register and pick up a free reading kit. Kids can have fun, improve their reading skills and reduce summer learning loss! Teen Summer Reading Club, for youth in grades 7-12, returns with the popular Challenge Card featuring fun activities suggested by members of our Youth Advisory Councils.

The new Bill and Helen Norrie Library project is underway and Winnipeggers are invited to review the proposed design. Residents can review the presentation and provide feedback online on the project website, winnipeg.ca/norrielibrary. The displays are available for viewing at the River Heights Library and the online survey closes May 17.

A librarian-led workshop to turn potential summer learning loss into summer learning gain! Discover tips & resources to build reading & writing skills. Be among the first to get details on 160+ library programs for children 0-12 during July & August.

Drop in for readings and a conversation with authors Lydia Kwa and Andrew Pyper on June 8th from 4:30-6 p.m. at Millennium Library! While you're there register for the writing workshops on June 8th.

Winnipeg Public Library has Accessible Smartlockers. The Smartlocker is a locker system that allows customers the flexibility to pick up holds from a locker instead of from within the library. Customers can pick up their holds even when the library is closed! Customers can now select an accessible option at the Harvey Smith, Millennium, and Osborne Library Smartlockers. If you require an accessible locker (the lower lockers) select the accessible option when placing your hold:

Millennium Library Smart Locker Accessible
Harvey Smith Library Smart Locker Accessible
Osborne Library Smart Locker Accessible

Be our new Writer-in Residence! Winnipeg Public Library is seeking applications for the Writer-in-Residence program. The 2019-2020 edition of the program will be the program's 30th year. The application deadline is Monday, June 10th. For more information please visit Writer-in Residence.

St. John's Library Opening Soon! St. John's Library at 500 Salter St. will re-open in early summer. Extensive renovations and the addition of an accessible entrance and reading room will ensure this heritage building is available for community use for years to come.

Your library card gives you access to 50 online learning resources and collections. This includes eBooks, streaming movies, magazines, LyndaLibrary and so much more.